Patience Street is Hawaii's First 102 Book Club Member
On December 7, 2004, Patience Street became the first patron of the Hawaii Library for the Blind and Physically Handicapped to be inducted in to the 102 Book Club.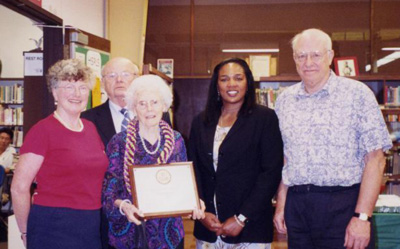 Photo Caption: Patience Street, holding certificate, is flanked on her right by Frank Kurt Cylke, Director of NLS, and Pamela Wilson, her daughter. On her left are Jean Moss, NLS Digital Projects Coordinator, and her son-in-law, R.W. Wilson.
Frank Kurt Cylke, director of the National Library Services (NLS) for the Blind and Physically Handicapped at the Library of Congress inducted Ms. Street into the Club prior to an informational meeting on the NLS digital project. Ms. Street had been a portrait painter before losing her sight and relies on the Talking-Book service to bring her information and news of the world.
She currently enjoys talking books in a variety of subjects including biographies, self-improvement, cooking and zoology.
Originally from England and Canada, Ms. Street moved to Hawaii 35 years ago and has been a patron of Hawaii's Library for the Blind for more than ten years.